Post unfinished videos and tests

I love VFX. It opens up worlds a nd possibilities that wouldn't be achievable any other way whether that be because of budget restrains or... you know... 15 foot muscular green men don't actually exist.
However recently I got the chance to film some Pyro stunts for real and I must admit I'm so happy I did as the alternative of CGI wouldn't have had such amazing results.
Here's some screen shots from the film and a short BTS video for you to enjoy.
CAR EXPLOSION:
Our licensed Pyro expert stripped the car over a couple of days, Loosened windows and filled it with 2 propane poppers and some Napalm to create a 20ft fire ball. It was amazing to watch.
MOTOR CYCLE CHASE
Imagine it. 2 people on a motorbike racing through the streets to escape a UFO. The spaceship rains laser bolts upon them (They were obviously CGI using Andrews SABER plugin) and 2 huge explosions erupt nearly taking the characters out... but some skilled riding means they get away.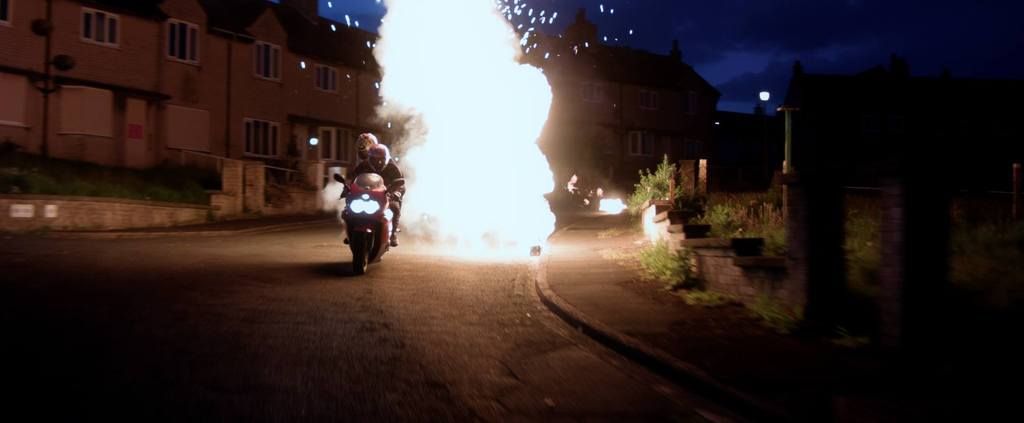 I was sat on the back of a QUAD bike infant, hanging on with one hand and operating the BLACK MAGIC POCKET on the NEBULA 4000 gimbal as the Motor Cycle chased us and the explosions went off.
We had a bit of a misfire on this one. The explosions were supposed to go off behind the rider. Whilst the first did, a fault with the detonator meant the second propane popper went off early. Everyone was completely fine and the result was an epic shot of the bike riding through the fire.
Heres some BTS of me on the back of the quad (the 2 headlights you can see) and the bike chasing us and the explosions
Posts: 139
Joined: 08/7/2008, 6:48 am
---
Nice dude. It's always awesome to see a good blending of digital and practical effects. I'm also a big fan of practical effects, John Carpenter's The Thing is one of my favorite films. Guys like Rob Bottin, Rick Baker, Tom Savini, Ray Harryhausen, Greg Nicotero, and companies like Weta Workshop, Stan Winston Studio, and The Jim Henson Company are part of what makes movies great
Posts: 325
Joined: 01/30/2013, 3:36 pm
---
Really nice, I love it! Can't wait to see the finished thing.
Posts: 95
Joined: 05/14/2015, 5:52 pm
System Specs: Build: Element x64 2.0.6 (1988)

OS: OS X 10.10.3

CPU: Intel(R) Core(TM) i7-3770 CPU @ 3.40GHz
RAM: 32768MB
---
---