3D max, Cinema 4D, Blender or your favorite 3D app

In max i just copy and delete , rotate and so on with the geometry i select etc...
Trying to do the same in houdini, selecting the tire and want to make it spin. I try to use ctrl+c and ctrl+v but its not pasting or copying...
Will imported geometry need some special node before i can select and pull apart the model?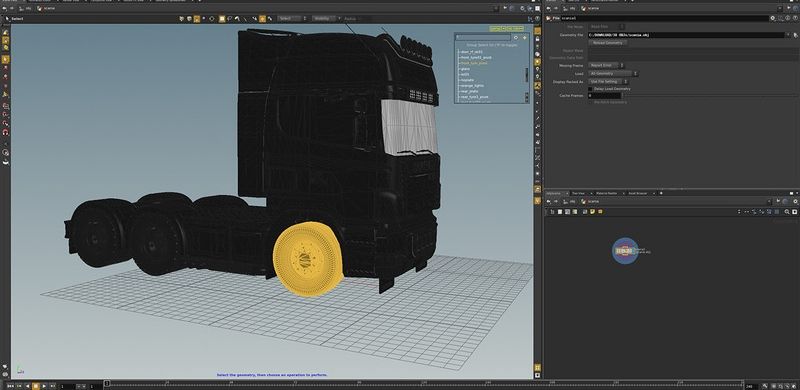 Posts: 130
Joined: 08/18/2011, 12:45 pm
Location: Norway
---
If the model is in a lot of pieces, you'll likely have nested subnets linked with nulls to handle them. So first off you gotta review your networks and see how it's built, then you can start to figure out what object or null to rotate.
And you really can't use the same methodology in Houdini as you would in Max, just handling a mesh, compared to Max, in Houdini you are basically always in Magma inside a Thinkbox Genome modifier... So just rotating or moving something, you gotta decide where, if you're gonna do that on a geometry level using the object transforms or a null as parent, or if you need to jump inside and use transform SOPs. And if you got nested subnets, as you often do with importing objects, it can become even more complicated...
Personally, unless I have a reason not to (due to rigging or parenting), I always merge the geometry into one SOP context, group the objects separately, merge them and then save it out to a new geo - and then I reimport it. That way I can handle everything in SOPs - which I prefer.
And if all of this is above your head, I'm sorry but it's not really possible to dumb this stuff down much - until you get into navigating between the contexts and understand how they differ, Houdini is really tricky to understand. I just did this article for Gridmarkets [
link
] and I'm actually working on a similar article in regard to the contexts and the path referencing, but still got a long way to go before it's done, sadly, it'll likely not be finished until august or so...
Posts: 2284
Joined: 06/8/2014, 1:44 pm
Location: Sweden
---
Nice reading..

Starting with Houdini forces me to learn more in depth, and i really need that. Its a lot to dive into, but it think using Houdini makes me learn more of what happening under the hood.

Thank you.
Posts: 130
Joined: 08/18/2011, 12:45 pm
Location: Norway
---
Absolutely. After 1-1/2 years in Houdini, it's hard imagining using any other DCC. It's about control and in Houdini I have complete control. I'm currently building this procedural spiderweb asset on my spare time and unless you script it, it's basically impossible to create an asset like this in any other package - at least not interactively adapting to it's surrounding objects, like this setup is...


Posts: 2284
Joined: 06/8/2014, 1:44 pm
Location: Sweden
---
---